Yesterday, we took an oath at the US Consulate, had our paperwork reviewed, which then closed out the last of my official duties to bring Marlo home. The United States will issue her a visa which I should receive this morning. And then at 4:30 I will hop on a van to Hong Kong where Marlo and I will spend our last night as just the two of us. Wednesday we will catch a plane that will travel for over 14 hours, log a total of almost 7,000 miles and will land in Chicago. The two of us will spend a few hours at O'Hare before taking the quick trip to Duluth to see our family and be home!! My suitcases are completely packed. I started packing last night as Marlo and I spent the evening together just in our room.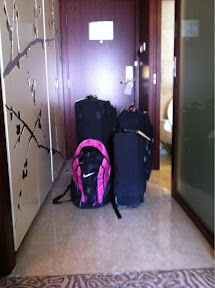 Yesterday after our US Consulate appointment, we visited a town square in Guangzhou that just ten years ago was fields. It is now filled with 40 story apartment buildings, the tallest TV tower, the Ritz Carlton Hotel, the Guangzhou Opera Theater, and brand new construction still going up. I cannot lie, I wouldn't have minded staying at the Ritz Carlton. We then went to Shamain Island. This is where we stayed with Ilei. I loved staying on the island as there was so much to do and see. The streets were filled with people, vendors, and stores. You could find a little something for everyone. Families everywhere. We arrived and parked at the White Swan Hotel. Walking in all I could think was it is still the same almost 7 years later. However, the shop in the hotel that was filled with strollers, now only carries luggage. The bookstore that had a large selection of children's books and toys was replaced with standard hotel fare. The streets outside the hotel are quiet. Almost desolate. The street that seemed busiest 7 years ago, now was empty. We arrived on the island around 11:00 a.m. The first store I went to, the owner told me I was his first customer of the day. I saw no one doing granite etchings. There was no one outside hand painting. And the only adoptive families I ran into were those we were traveling with. Things have changed in the China adoption world. I heard two different reasons for the decrease in international adoption for China, which obviously has changed the island. I was told by two guides, two different reasons. It sounds like these babies in China are either being adopted out domestically or the families are keeping them, as the one child policy is not as harshly enforced as it once was. To me, either way, it sounds like a positive situation.
As home gets closer, I get more and more anxious to leave. Not too excited for the flight back, but it looks like I may have an entire row to myself! Well, me and Marlo. I welcome the extra space! And I am sure that no one would really want to sit next to a mom by herself and an infant! Keeping my fingers crossed that the seat assignments stay as is.
We had group pictures today and had a little meeting with the families afterward. It is a great group. I've enjoyed getting to know them as much as I did and I'm looking forward to Christmas cards for an update of these babies!
For now, my mind is switching gears. I'm ready to give up room service and laundry service to my own kitchen and laundry room. (I can't believe I actually want to cook and do laundry.) I'm excited to watch Ilei at skating on Friday. I cannot wait to watch Eli play baseball on Saturday in Carlton. As for Wyatt, I'm excited to have to wake him up for baseball or basketball and have him drag himself upstairs by noon and ask if he can have pizza rolls for for breakfast, when it is actually lunchtime. I'm really looking forward to seeing John. As I have been here by myself and people have told me they cannot believe I'm doing this on my own, John has been holding down the fort at home. That is no easy task. Juggling work and the kids' schedules is something we balance out pretty good together. It takes two. And yes, my mom and dad or my sister have been at my house during the day and taking on those activities, he still comes home to kids' nighttime schedules, laundry, cooking, cleaning, bedtime routines and attempting to stay up late enough to see that Wyatt went downstairs for bed. By Wednesday night, we may both collapse. And what I cannot wait to do is hand him his newest little girl. She's a lucky little thing to be able to call him daddy. He'll do anything for her and already loves her more than you can imagine.
Wendy